Fixed Income Insight - March 2021
Read our Fixed Income insight March 2021 : Catalysts, risks and opportunities
03. Mrz 2021
Bond markets performance in 2021 is a 'Tale of Two Cities'
Credit spreads continue to grind tighter with some levels in the US market now at record lows. But for higher quality bonds, this has not been enough to offset the rise in sovereign yields. Fixed income asset classes which are more exposed to developed market rates have produced negative returns so far in 2021, with the latest rise in US treasury yields also matched by moves in German bunds.
This means that investment grade credit has significantly underperformed high yield, which has delivered positive returns through its higher carry and lower interest rate duration.
This has been consistent with our fixed income preferences so far in 2021, where we have favoured high yield, EMD, Asia credit and ABS – all less interest rate sensitive asset classes. But the upside risks to rates in a recovering global economy, together with challenging valuations in credit markets, make for some tough decisions for bond managers.
This publication is intended for Professional Clients and intermediaries' internal use only and should not be distributed to or relied upon by Retail Clients. The information contained in this publication is not intended as investment advice or recommendation. Non contractual document. This commentary provides a high level overview of the recent economic environment, and is for information purposes only. It is a marketing communication and does not constitute investment advice or a recommendation to any reader of this content to buy or sell investments nor should it be regarded as investment research. It has not been prepared in accordance with legal requirements designed to promote the independence of investment research and is not subject to any prohibition on dealing ahead of its dissemination. The performance figures displayed in the document relate to the past and past performance should not be seen as an indication of future returns. Any forecast, projection or target where provided is indicative only and is not guaranteed in any way. HSBC Global Asset Management accepts no liability for any failure to meet such forecast, projection or target.
Rising US treasury yields
The further move higher in US treasury yields over the last month has perhaps been a rational response to greater economic optimism and higher commodity prices. The rise in inflation in the parts of the economy which were most badly affected by the pandemic could be sharp in the coming quarters as they come off a very low base. This has led to fears that a higher headline inflation rate could embed inflation expectations and lead to core price rises. Our central view is that medium term inflation will be contained due to the extraordinary levels of spare capacity in economies following the pandemic. Employment in the US is still 8% below pre COVID-19 levels, while negative output gaps throughout the world will take many quarters to close. The Fed remains a key part of the equation. So far, its action and rhetoric has been firmly and consistently dovish, but market rates are challenging the premise of indefinite ultra-low interest rates and accommodative policy. Any – even slight – indication of policy deviation towards a more hawkish stance at this point could cause a further sharp selloff in the treasury market and begin to compromise the economy through higher borrowing costs.

Interestingly, in this latest bout of US treasury weakness, German bund yields have also risen to approximately the same degree. This has not generally been the case in recent quarters with bund yields anchored by the prospect of unchanged and highly supportive ECB policy. The sympathy selloff in bunds may be the result of a combination of the globalisation of the reflation theme, together with the likelihood of a more fiscally astute government in Italy led by former ECB Chair Mario Draghi, which has burnished the allure of Italian debt and prompted some switching out of bunds into BTPs.
Figure 1: Treasury bund spread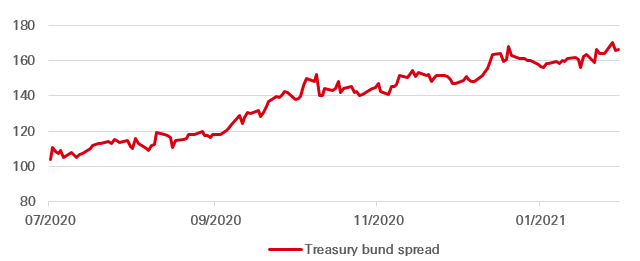 Source: HSBC Global Asset Management – February 2021
Although we believe that the strong upwards momentum in US treasury yields will mean that rates continue to rise in the next couple of months, we are not expecting 10 year bonds to go too much above 1.5% in the medium term. Apart from the signals from the Fed that they will look through short term spikes in inflation and the fact that their new average targeting regime implies a willingness to allow inflation to overshoot in the short term, US rates and inflation expectations have already risen significantly on some measures and may already be in overshot territory. Given the damage the pandemic has undoubtedly done to the global economy, an immediate return to fully utilised economies seems unlikely.
Will higher sovereign yields be the driver of wider spreads?
Credit spreads are becoming increasingly vulnerable on valuation grounds, with US BBB Corporates trading at post Global Financial Crisis tights as an example. If it proves to be the case that sovereign bond yields rise further and more quickly than we expect, would this mean that credit spreads inevitably widen as investors shy away from high quality credit, fearful of further negative returns?
Figure 2: US BBB corporate spread

Source: HSBC Global Asset Management – February 2021
Arguing against this hypothesis, credit fundamentals are very strong with highly supportive Central Banks and improving economies, while the supply picture is probably also improving with many institutions having bolstered their balance sheets with the cheap funding recently available. Moreover, if higher rates start to dislocate spreads and potentially disrupt other risky assets, rates markets will inevitably begin to discount lower rates in the future and further Central Bank stimulus.
This conflict between good fundamentals and historically expensive valuations creates a difficult scenario for fixed income managers. We have become more cautious in our positioning, reducing credit exposure in our investment grade portfolios as spreads tighten. However, we have not yet become defensive, recognising the loss of carry we would suffer if we were to take an underweight credit position, and the continuing strong investor demand and desire for yield.
The key to success in this environment is good bond selection and sector rotation.There is still some room for compression between those sectors most badly affected by COVID-19 and those which were able to continue or even thrive, as economies normalise. In high yield markets, the opportunity in distressed credits and COVID-19 impacted sectors is amplified, and therefore we remain more constructive and positively positioned.
Asia credit
One USD credit market which still offers decent valuations by historic standards is Asia. Due to disruption from the Trump Administration's Executive Order 13959, which forbids US persons from investing in the securities of certain Chinese companies, investment grade spreads have not tightened to the same degree as in other markets. However, we believe that this will only be a temporary setback because the number of sanctioned companies is quite small, and all have funding sources in Mainland China and solid credit fundamentals.
Meanwhile, idiosyncratic issues affecting some names in the high yield market have also kept spreads wide in that part of the market. Policy moves in Mainland China to clean up bad credit and to assert more market discipline mean that there has been more pricing differentiation between sound and fragile credits. We believe that this is a positive step towards a healthier market environment in the medium term. We do not believe that there will be long-term contagion with default rates and expect credit deterioration to remain comparatively low in 2021.
When added to the fact that Asia credit spreads were already wider than US or European, and Asian economies are expected to perform relatively well in 2021, we believe that there is a high chance that this market will outperform in 2021.
Figure 3: Asia IG spread vs US IG spread to worst vs. government bond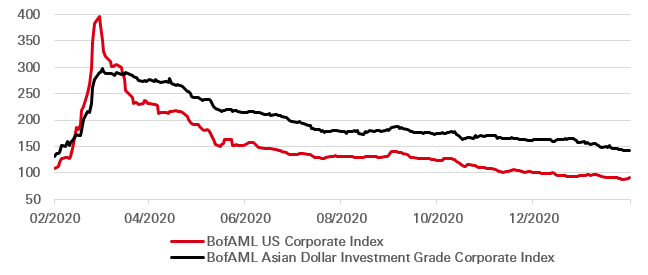 Source: HSBC Global Asset Management – February 2021
In conclusion
Our overall view at the end of the year has been mainly confirmed by the moves we have seen so far in 2021, but in many fixed income markets valuations have become even more extreme. This means that our cautiously optimistic view on credit has become more cautious, with a strong focus on chasing relative-value opportunities. Similarly, for asset allocators, the need to diversify into less traditional fixed income segments such as emerging markets in general and Asia in particular has become more urgent.